From time to time, we like to showcase the setups and collections of amazing aquarists from around the world. Today we're looking at the amazing collection of planted aquariums by Instagram and YouTube sensation Lissa Aquariums.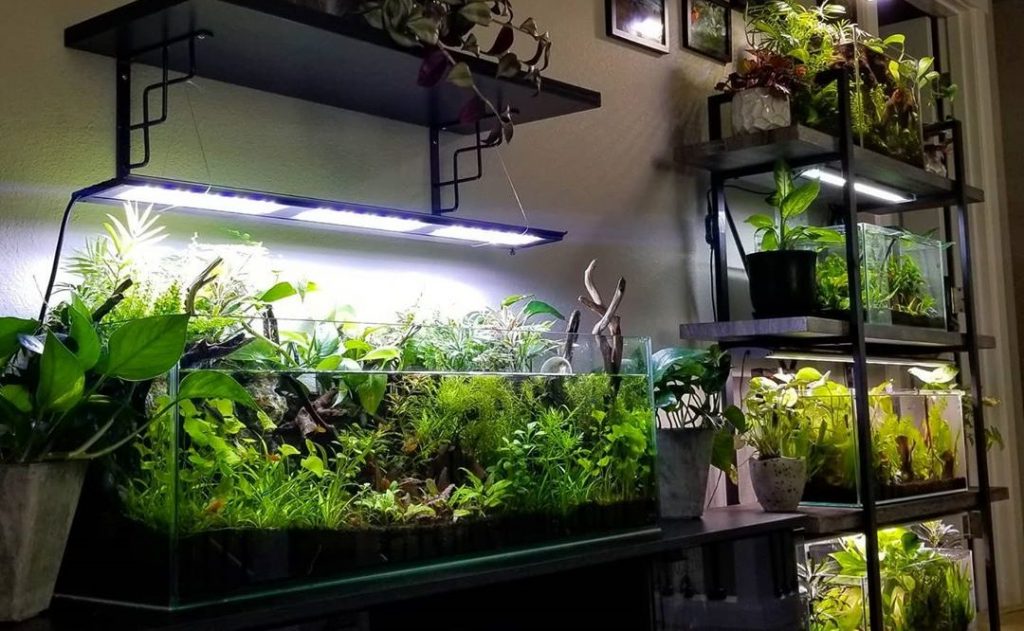 Lissa's specialty is densely planted aqauriums, typically with semi-aquatic plants that protrude outside of the tank. As you can see in the photo above, the arrangement of indoor plants among the planted aquariums creates the effect of a lush tropical vertical garden.
Growing saquarium plants so densely is deceptively challenging. You can see that no corners have been cut when it comes to provided lighting. Strips of powerful LED lights are positioned above all of the tanks in the shelving display, and the smaller tanks below use spotlight-style lights that are bright enough to penetrate through multiple layers of foliage.
It's apparent from the thick substrate present in each aquarium that careful consideration has been taken to ensure there's sufficient space for the plants to establish root systems. Although not explicity shown in these photos, it's probably that c02 (either in gas or liquid form) is being used to stimulate healthy plant growth.
While plants are the main attraction of Lissa's gorgeous setup, the tanks are all lightly stoked with a wide variety of striking tropical fish. There's a number of tanks sporting a lone male siamese fighting fish (like the right-hand tank above), a collection of vividy-coloured discus, mixed tropical community fish, and even groups of tiny little cherry shrimp.
Want to support Lissa Aquariums? You can follow on Instagram, subscribe on YouTube, or make a purchase from her Amazon store.
---
Images are subject to copyright and reproduced under fair use for the purpose of commentary.